Phone Charger Information
Phone Charging technical information
Contents
Can using the wrong charger damage my phone?
Wrong AC frequency (50Hz vs 60Hz)
Volts, Amps and Watts
Electricity flows like water through a pipe. The voltage is how much pressure the water is under. The current is the flow rate through the pipe. The power is the volume of water flowing through it. Power = voltage x current.
Smartphone batteries charge when a current passes through them. Greater current and higher voltages charge batteries faster, but there's a limit to what they can take. A charge controller circuit inside the phone protects it against dangerous spikes in current.
The controller chip regulates the overall flow of electricity into and out of the battery. Generally speaking, lithium-ion controllers define the current (in amps) at which the battery charges by measuring the battery's cell current and voltage and then adjusting the current flowing in. Some use a DC to DC converter to change the input voltage, and fancier integrated circuits adjust the resistance between the charger input and the battery terminal to ramp the current flow up or down.
The amount of current the charge controller draws is generally dictated by the phone's software.
AC power plugs and sockets
We know that different countries have different socket types. But they also have different voltages and alternating current frequencies. Does that matter?
UK Type G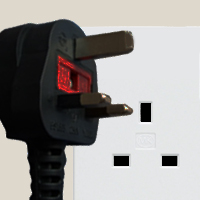 Used in the United Kingdom, Ireland, Malta, Malaysia and Singapore
3 pins, grounded, 13 A, 220 to 240 V, 50 Hz
EU Type C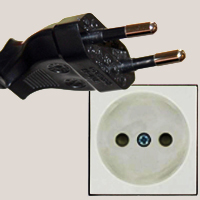 Used in Europe, South America and Asia
2 pins, not grounded, 2.5 A, 10 A, 16 A, 220 to 240 V, 50 Hz
USA Type A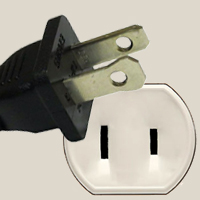 Used in the USA, Canada, Mexico and Japan.
2 pins, not grounded, 15 A, 100 to 127 V, 60Hz
60Hz vs 50Hz
In the UK, most of Europe, Africa, Australia, Southern South America, most of Asia, and Russia, household electrical outlets have an AC frequency of 50 Hz.
In North America and Northern South America, the frequency of the alternating current in household electrical outlets is 60 Hz.
The use of 50 Hz or 60 Hz is purely due to historical reasons. Companies in the US made 60 Hz equipment and those in Europe made 50Hz equipment.
There is no big difference between 50 Hz and 60 Hz. 50Hz is not necessarily better than 60Hz.
Devices that use internal power supplies to rectify and lower the voltage for internal use will handle 50/60 Hz without a problem. Some devices don't care too much about the voltage either, allowing anything from 100V AC to 260V AC.
The devices most sensitive to the AC frequency are those that directly use the mains frequency, like synchronous motors. They will run slower on a 50Hz than they would on 60Hz, and might be prone to overheating under heavy load.
Cables
The Samsung Galaxy Note 10 Plus can hit high charging speeds using the USB Power Delivery 3.0 charging standard, but requires a special adapter with an unusual 10V and 4.5A rating to output 45W, which means it also requires a 5A rated cable.
Fast Charging
Mobile phones have Lithium-Ion batteries. These are able to take in more power initially, tapering out as the charge builds. Fast charging takes advantage of this, pumping in more power at the start to charge batteries more quickly. The problem is that there are lots of standards for how to do it.
The original fast charging standards were USB Power Delivery and Qualcomm Quick Charge. Following those came competing technologies like MediaTek Pump Express and OPPO VOOC, which was licensed to OnePlus as Dash Charge. All fast charging standards have a common goal – to deliver more power than the standard USB output of 1.5 Amps at 5 Volts.
USB Power Delivery (USB-PD)
This is the fast charging specification published by the USB-IF committee in 2012. The standard can be used by any device with a USB port, provided it has the necessary circuitry and software. Like all fast charging standards, USB-PD implements a data protocol to communicate between the charger and phone. This negotiates the maximum tolerable power delivery for both the charger and handset.
USB Power Delivery chargers can produce up to 100W of output power. The amount of available power is split into different power ratings, which operate at different voltages. The 7.5W+ and 15W+ modes are best for phones, while 27W and above are for laptops and other higher power devices. It also supports bi-directional power, enabling your phone to charge other devices.
Qualcomm Quick Charge
Quick Charge is Qualcomm's proprietary fast charging technology. It has been extensively reverse engineered by other companies.
To use Quick Charge, both the charger and the phone must support it.
Quick Charge 2.0 introduced a feature called Dual Charge. This two circuits to split the power into 2 streams to keep the phone's temperature down.
Quick Charge 3.0 introduced Intelligent Negotiation for Optimal Voltage and Battery Saver Technologies. INOV sets the optimum power transfer rate while maximizing efficiency. Battery Saver maintains at least 80% of the battery's original charge capacity after 500 charge cycles.
Quick Charge 4 introduced HVDCP++, Dual Charge++ (optional), INOV 3.0 and Battery Saver 2. Version 4 is compatible with both USB-C and USB Power Delivery. It falls back to USB-PD if either the charger or device is not compatible. Version 4 also features additional safety measures to protect against over-voltage, over-current and overheating, as well as cable quality detection.
Quick Charge 4+ introduces Intelligent Thermal Balancing and Advanced Safety Features to eliminate hot spots and protect against overheating and short-circuit or damage of the USB-C connector.
Each new Quick Charge generation is backwards compatible. It will work with the generations that came before.
Samsung Adaptive Fast Charging
Voltage: 5V/9V, Current 2A, Max Power 18W
Samsung Adaptive Fast Charging is built into most Samsung phones and is compatible with Quick Charge 2.0, although it tends to be more conservative than Quick Charge 2.0.
It is fully compatible with Exynos, the system-on-chip commonly found in international variants of Samsung phones.
It's worth noting that Samsung has increased charging speeds with the Samsung Galaxy S10 5G supports up to 25W charging with the USB Power Delivery 3.0 Programmable Power Supply standard. The Samsung Galaxy Note 10 Plus can hit high charging speeds using the same specification, but requires a special adapter with an unusual 10V and 4.5A rating to output 45W, which means it also requires a 5A rated cable.
Adaptive Fast Charging's best speeds require a certified charger.
Other standards
However, only a few charging standards are truly different to Quick Charge and USB Power Delivery. Most are rebrands of these two.
Oppo's VOOC and Huawei's SuperCharge and OnePlus' WarpCharge 30 are actually different. They greatly increase the current rather than increasing the voltage.
A phone can support multiple standards. This leads to a lot of unpredictability about the exact charging speeds you'll receive when using phones with different chargers and even different cables.
Can using the wrong charger damage my phone?
Your phone is delicate. You want to take care of it. And yet you need to charge it a lot. And there are lots of chargers lying around. If it fits, it will work, right? Probably, but proceed with caution.
Strong currents
If the adapter that you have found has the same voltage as your original adapter, but more current, you shouldn't get any problems. The phone will only draw the current as it needs.
Weak currents
If the adapter has the same voltage, but lower current than the phone is expecting from its original charger, your phone won't be harmed, but the adapter might. It might overheat, pop or cause a fire risk. Your phone might not charge as quickly as you expect, or might not turn on.
High Voltages
If the adapter has a higher voltage than your original adapter, but the current is the same, then the phone should shut itself off if it detects an overvoltage. If it doesn't, then it might get hotter than normal, which can damage the phone or shorten it's the life.
Low Voltages
If the voltage of the adapter is lower than the original, but the current is the same, then the phone may work, albeit erratically. An under-voltage situation won't damage your phone or shorten its life.
Wrong AC frequencies (50Hz vs 60Hz)
The phone itself uses DC, so it doesn't care about the AC frequency. The adapter handles that. Most adapters will handle 50/60 Hz without a problem.